Ecology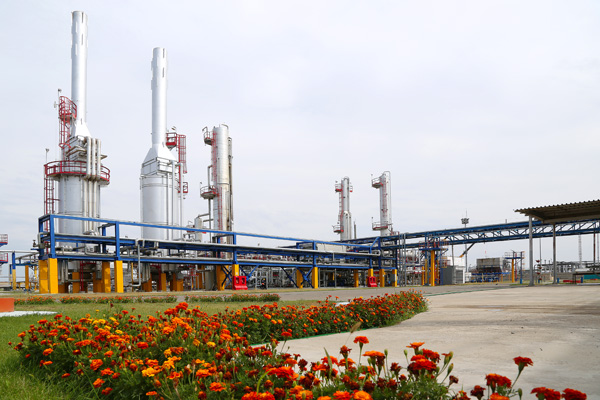 SC Condensate is a company committed to environment and in its business follows environmental policy such as:
meeting the requirements of the  environmental legislation of the Republic of Kazakhstan;
reducing negative environmental impact through the introduction of relevant programs;
continuous upgrading of material and technical base of the company and introducing resource-saving processes and technologies;
preventing accidents, incidents and environmental pollution through effective preventive actions;
continuous controlling and monitoring company processes affecting the environment through internal and external audits, in-process monitoring and periodical analysis by the management;
forming responsibility at company employees with regard to environmental issues by training and preventive work;
informing the population through mass media about environmental condition as a result of the company production activity on a regular basis.
The company gives much attention to environmental safety of the region when performing its production activity. Particularly, the following advanced technologies were introduced to mitigate negative environmental impact:
A petroleum vapor recovery system of the tank farm and loading racks at the Mini-refinery and the oil products terminal, which reduced hydrocarbon and mercaptan emissions for more than 90%;
Hydrocarbon vapor recovery unit produced by OOO OilTechnoSystem with treatment rate of 99.45%;
Flash and stabilization gas recovery block which allowed to eliminate burning of sour hydrocarbon gas by transferring this gas for treatment in the adjacent process;
biological waste water treatment unit which allowed to reduce waste water disposal into the open water basin by treated water reuse for fire-fighting purposes.
To minimize environmental impact of industrial processes, SC Condensate applies continuous monitoring of environment condition at company industrial facilities. Monitoring is carried out according to Environmental In-process Monitoring Program (EIMP) approved by top management and agreed by authorized environmental bodies. Environmental condition monitoring program is implemented by SC Condensate proper personnel as well as licensed contractors. Over the last years no excessive effluents and discharges as well as maximum allowable concentration (MAC) on components under analysis were recorded.
The company spent 92.3 mln tenge during 2013-2015 and over 234 mln tenge in 2016 for environmental measures.
Environmental Management System ST RoK ISO 14001-2006 "Environmental management systems. Requirements with quidance for use" was successfully introduced in 2005 by SC Condensate. To monitor standards functioning within the company, JSC "National Center for Expertise and Certification" experts carry out compliance audits on an annual basis. Once every three years a certification audit is carried out to verify compliance with these standards.
Engineering and technical personnel as well as plant personnel are trained in environmental subjects on a regular basis both inside the company and in specialized training centers. Environmental experts get advance training  conducted by the Ministry of Energy of Kazakhstan on an annual basis.