Steady development
SC Condensate is a leading West Kazakhstan company in oil products production and sales thus possessing a reputation of a reliable partner. According to the annual ranking of National Business journal, the company enters Kazakhstan Top 100 Companies list in sales for the last 15 years running. SC Condensate is a large domestic taxpayer contributing to the economic development and social stability of the region.
During the entire period of its activity, the company followed the strategy of dynamic and steady development. To provide stable and long-term development of the company, a look-ahead plan on strategic development was elaborated. The main directions of this plan are production facilities modernization, extension, re-equipment using new technologies. This resulted in continuous growth of production efficiency due to increase of production volume and refinery yield, product quality enhancement, widening of assortment as well as environmental improvements in the region.

Thus, the plant was upgraded in 2008 which resulted in the increase of the design capacity of unstable gas condensate processing from 400 KTA up to 600 KTA.
In the same year the company facilities employed a petroleum vapor recovery system equipped with vapor-air mixture treatment units with enclosed petroleum storage and loading to reduce air pollution by harmful emissions. This project enables trapping petroleum vapors coming out of the tank farm and loading racks which resulted in reduced hydrocarbon and mercaptan air emissions by more than 90%.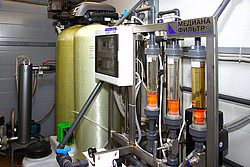 Another facility of importance for the company was commissioned in 2010 – Flash and stabilization gas utilization. Once started operating, it enabled conditioning of all the sour hydrocarbon gas generated during feedstock processing to be ready for pipeline transportation for use in the adjacent plant process. This project enables drastical decrease of greenhouse pollution by harmful emissions.
In order to widen the assortment of raw hydrocarbons processed, the company has upgraded Mini-refinery production by putting 2 extra tanks with pump stations, crude oil reception units and light petroleum product loading into operation in 2012.

In 2012 SC Condensate initiated execution of an important innovative project named "Phase II of Refinery Development – Production of Environmental Class 5 Motor Fuels". The project is included in the Roadmap of Industrial Development of Kazakhstan. The project is completed in November 2016. Once launched, the new 200 KTA gasoline plant enabling to fully satisfy West Kazakhstan demand in gasoline. SC Condensate was the first in Kazakhstan to sell new high quality and competitive products: K5 (Euro 5) 92 RON & 95 RON motor gasolines thus complying with international standards. Gasoline is sold at own gas filing stations as well as to wholesale customers.
The gasoline project applies high-tech feedstock refining processes as follows:

•    Naphtha (gasoline cuts) hydrotreatment intended for cut treatment of Sulphur, Nitrogen and other harmful substances;
•    Naphtha Reforming intended for producing high-octane components of motor gasolines and technical hydrogen;
•    Light Naphtha Isomerization. Isomerization is catalytic isomerization process for increasing light naphtha octane number by isomerization of naphtha-contained normal pentane/hexane paraffin till pentane/hexane paraffin in hydrogen atmosphere;
•    Amine treatment to remove impurities  harmful to hydrocarbon gas.
•    Sulphur production using Dirox process for utilizing sour gas generated during gas amine treatment.
•    Applying world-known equipment and Co-Mo catalysts for refining processes.
In 2016 tank farm modernization was completed followed by reconstruction of 3 No. existing tanks for further use for gasoline and isoriformate receiving and temporarily storing; construction of gasoline blending units and truck tank car refilling; construction of three underground tanks to store MTBE high-octane additive; gas leveling and recovery systems for gasoline vapors and additives, combining tanks and risers for filling rail tank cars and truck tank cars with gasoline, as well as gas cushion discharge line from MTBE tanks; construction of a 1000 m3 tank for fire water storage and many other upgrades.

In 2016, a new intermediate tank farm of five 2000 m3 each tanks and a gasoline recovery unit was put into operation in the Mini-refinery.

Dark oil product tank farm consisting of 2 tanks with 2000 m3 nominal volume and pumping unit and truck tank car vacuum bottoms loading and unloading unit was put into operation in the Feedstock and Heavy Oil Products Terminal in 2016 under "Facilities for receiving, storing and shipping vacuum bottoms/fuel oil in the Feedstock and Heavy Oil Products Terminal" Project.
In November 2016 construction of a new technical chemical laboratory was completed. The laboratory is equipped with built-in laboratory furniture and high-tech equipment to carry out researches in 400 procedures in compliance with the domestic and international standards.
The same year 2 No. new gas filling stations were put into operation both in Aksay and Uralsk.


In early April 2017, a new 250 KTA Vacuum Distillation Section completed with auxiliary facilities was put into operation. The new process unit enables extraction of light oil product to the full extent and production of new kinds of ready-to-use products:
•    distillates used for the production of motor gasoline and diesel fuel;
•    vacuum gas oil that will be used for further processing to produce motor fuels and lubricating oils;
•    vacuum bottoms used to produce road and roofing asphalts.

In August 2017 SC Condensate completed 850 KTA Refinery project being a strategic project for increasing Mini-refinery capacity. Started in 2016, the project is intended to upgrade the existing plant.
This project will enable increasing feedstock processing volume from 600 KTA up to 850 KTA.

Over 57 KTA of motor gasoline was produced and sold at West Kazakhstan market in 2017.