Corporate Social Responsibility
Stable development of the Company contributes significantly to the economy and welfare of the region. This being said, the Company Management along with its core activity and on the basis of moral standards and values has developed a Policy of Corporate Social Responsibility. This Policy is implemented not only inside the Company and among its employees, SC Condensate has taken up a voluntary mission on helping the community operating in and for it.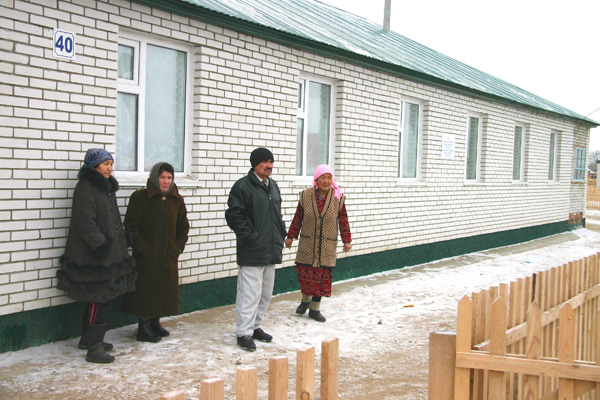 Over 20 years the Company has been actively delivered social projects, and the priority ones are aimed at the socially vulnerable community: orphaned and disabled children, associations for the disabled and retired workers, participants of the Great Patriotic War. Significant material support is provided to institutions of public education, culture and sports. This has become a reality for the team and these are targeted assistance and actions of every kind for the above people that are done under the motto "Eager to do good".
Condensate never stays aloof from the life of home people and in hard times it always gives them a necessary help. For example, in 2008 y. 8 No. apartments to the amount over 34 million tenge were built in Sary-Omir village for earthquake victims. In 2011 the material aid to the amount of 37 million tenge was allocated to the victims suffered from the devastated flood in the city suburbs. In 2018, 5 million tenge were allocated for the construction of the House to adapt people with special needs to Uralsk.
Condensate teams especially honor Great Patriotic War veterans.  In 2005, on the eve of the 60th anniversary of the Victory, patronage was taken over 167 veterans of the Great Patriotic War, and unfortunately their number decreases from a year to year. Since then the employees of the company render them both a substantial material and moral assistance. In 2011, the Commemorative Book was published, consisting of micro-sketches on the exploits of veterans compiled by condensate workers. For over fifteen years the veterans under patronage are congratulated on the Day of Victory, wished a happy New Year and anniversary followed by material reward. By May 9, essays about their military, labor path and daily life are published in the Nadezhda newspaper every year.They are very honored guests at events dedicated to Victory Day that is widely celebrated in the Consortium.
The Company provides a substantial aid to the public education. For more than 20 years ago the Company has started allocating funds to upgrade the material & technical base as well as to award annual Best Teacher and Best Student prizes in schools and colleges of the town and region. Over 13 years the Company employees take a good care of the family of orphaned children from a family-style children's village.
For 8 running years the Company holds "To school with Condensate!" event allotting funds to purchase school supplies for more than 300 children from needy families, studying in sponsored schools in Uralsk and Burlin district.
Seven years ago the volunteers of the team have held "Condensate for healthy life-style" sports and entertainment event for the first time to hold it periodically at the supervised schools.
2000 tickets for EXPO 2017 held in Astana was purchased and granted with the aim of support of needy residents of the region and students of supervised schools.
Since 2000, SC Condensate takes an active part in the development of professional and popular and corporate sports, for which purpose 4 sports halls were built.
In 2003 SC Condensate became the initiator of badminton promotion as an engrossing sport, first in corporate game programs among its employees and later throughout the region. In order to promote badminton, region-wide Badminton Federation was created in 2010, funds were allocated to arrange classes for children at schools of the town and the region. Sponsorship assistance was rendered to hold multiple sporting events of various level among adults and young people during these years.
More than 100 students of town schools get free-of-charge training involving 4 coachers at the expense of Company volunteer funds, at Youth Sports Badminton School created in 2013 on the basis of the new multi-purpose sports hall constructed by Condensate.
Since 2017, a branch of a sports school for children of the Burlin district has been opened in Aksay, where more than 60 children are engaged. There are badminton sections in 7 city and 5 district schools of the region. Badminton school branches opened in three more districts.Thus, owing to SC Condensate, over 400 children are currently trained in badminton in our region.
To further promote this game played at Olympics, SC Condensate jointly with Federations of Badminton of Kazakhstan and Asia was the first to hold International Qualification Badminton Tournament in Central Asia in July 2015. Over 90 top-ranked sportsmen of 14 countries took part in the high level tournament.
In November 2018, with the sponsorship of condensate group, two major international badminton tournaments were successfully held.This is the «Condensate Apacs Badminton Asia Regional Under 15, 13 (Central Asia)» among juniors and the traditionally largest Central Asian tournament «Condensate Apаcs Kazakhstan Internаtional Series» among adults. Both tournaments were highly praised by guests and tournament participants.
Dedicated work of teams of Condensate Group of Companies, their pro-active civic stance was bound to enable solving society-oriented issues on a regular basis and on large-scale terms as well as allocate 320 mln tenge during the past 5 years for charitable and sponsorship activities.