Business Activities
Rentalofofficerooms, trading spacesand warehouse premises;
Recreation in Mechta country camping;
Fitnessandsports;
Variousconstructionservices;
Air conditioner installation and maintenance.
Leasing/rental of commercial space
The Company is involved in servicing and leasing/rental of office premises located in the downtown at the address 177, Yeskalieva St., 15/1, D. Nurpeisova St., 1, Zhukov St., 35/1, Svobodnaya St., shopping spaces in Rakhat Trading Center (Uralsk) and in Phillips Trading Center (Aksay) to the total area of 9,247 square meters.
All the premises in office and trading centers are equipped with modern engineering and technical communications, networks for telecommunication and connection to Internet providers; IT-hardware capabilities enable to provide mini-PBX services individually for each client. Conference communication in the building make communication possible not only within the client's office, but also among several companies.
One of the main parts of the leasing space complex is the City Center building equipped with modern high-speed elevators. For the convenience of tenants and visitors there is a comfortable cafe on the 1st floor where one can invite a business partner to have a coffee break or a business lunch, and where one can have a tasty dinner, if you wish.
The office complex has a electronic access system on each floor and guarded parking. To ensure security, office complex networks within the buildings are equipped with centralized security and CCTV system.
The first stage of the reconstructed office complex, located in downtown Uralsk at address 179, Eskalieva st. was commissioned in 2012. The building is equipped with all the necessary modern life support systems. This will enable many enterprises and companies to place their offices in the downtown in close vicinity to state administrative establishments, bank offices and large business entities.
Click here for more photos of the office complex network in the photo album.
"Energiya" Fitness Center – Fitness and Sports Services
Energiya Fitness Center is a whole world full of energy, health and beauty. "Exercise for fun and energy!" is the motto of the fitness center personnel.
Energiya contemporary fitness center that functions as a club opens its doors early every morning for first customers to get a charge of vivacity, energy and high spirit for the whole day. One can exercise here until the late evening.
What Energiya club differs with? First of all, it offers a variety of services, modern equipment, highly trained personnel able to serve out the most demanding customers. Some customers like group exercises while others prefer individual exercise programs. Experienced coachers always try to find and offer the best exercise program to suit a particular customer and aimed at improving the overall condition and physical fitness, intense fat burning, improving overall stamina, cardiac and respiratory system functioning, strengthening and gaining muscle bulk, forming a beautiful figure.
The club gym is equipped with state-of-the-art equipment of such brands as Precor, Icarian and Ivanko which are considered to be the best ones in the world. What a pleasure it is to exercise on this equipment!
Experienced coachers in the gyms for group exercises will teach yoga, pilates, dance, aerobic exercises those who wish to exercise, and they'll also help improve one's figure using the most advanced methods of group exercises. Each season new programs are offered by fitness center coachers. One of 2011 novelties is ZUMBA dancing program. This program is recognized as one of the most modern and popular in the world. It is a rhythmical medley of Latin, Spanish, African dance melodies mixed with aerobics.
Group programs in aqua-fitness, aqua-aerobics, individual swimming exercises are held in the swimming pool. Whatever an exercise You choose, You will always be in the team of like-minded people under supervision of a charming and competent coacher.
Twice a month the members of the club have a unique chance to visit Mechta country campsite to participate in Outdoor week end program.
Nordic walking was first introduced in fitness center programs in 2011. This is a new kind of outdoor fitness being a walking using ski pole prototypes. Loads exerted under this program exceed much the loads exerted during common walking and is close to that of jogging, the moderate regime for the human body much exceeding both walking and jogging. Such programs became regular and they take place in the vicinity of Mechta campsite, in Khanskaya grove and in the Park named after Kirov.
Badminton and table tennis section for club members and amateurs of these sports started functioning since 2011. Everybody who wishes to exercise these sports go in for paid exercises four times a week using quality equipment. All this is arranged by experienced coachers of the fitness center.
In 2014-2015 fitness center coachers continued attending well-known fitness conventions whence novelties of fitness fashion were introduced into their work. Hits such as Cross Fit, Circuit Training, Sky Yoga emerged in the programs offered by the fitness center. Fresh waves of fitness actions give motivation to exercise for regular customers as well as for attracting new ones.
Sky Yoga being hammock Yoga workout is one of the most interesting novelties of 2015 year. These exercises involving special physical condition are designed to gain in physical health, improve dexterity and visual appeal. This kind of Aerial Yoga is an acrobatic workout performed on special anti-gravity hammock.
In 2017 "Energiya " fitness center coachers mastered Pro jumping workout being a brand new fitness novelty. The trampoline fitness is able to replace hours-long gym workouts.
After exercises are over, for pleasant recreation one can visit sauna, massage parlor as well as phyto-bar where a wide choice of low-caloric meal and fresh juice is offered. In the beauty parlor one can have one's hair dressed and manicure done, and with the solarium - beautiful tan. In SPA-parlor experts will offer You a variety of treatments to improve the condition of your skin and the entire body. SPA philosophy states that beauty must follow health, so all SPA-procedures are aimed at improving the skin condition. We look forward to You in our club and will be glad if You join our club as an active member.
The multi-purpose sports hall as a part of Energiya sports complex is being used since October 2013. From the very start of service it became one of the centers of promoting sports in our region. This sports hall is used by Akzhaik club junior football players for playing sports. The sports hall is a center of regional promotion of sporting badminton. Over 100 trainees of the regional Junior Sports School as well as badminton amateurs of various ages go in for badminton under guidance of professional coaches. All the official badminton tournaments in West Kazakhstan region are held here both among juniors and adults.
The sports hall is very popular among sports amateurs from teams of Condensate Group of Companies and other Uralsk-based companies. On evenings and weekends five-a-side, badminton, volleyball, table tennis are played on a regular basis by people of various ages and occupations. They are all united by love for sports and devotion to pro-active and healthy life-style.
Since the start of the service, many highest level sports events were held in the sports hall. Among them are RoK Super League Men Volleyball Championship tours, RoK Personal and Team Championship and Open Badminton Championships for West Kazakhstan region where top-rank sportsmen from Russia, Belorussia and Kazakhstan took part in.
"Condensat Apacs International Series 2015" International Badminton Tournament was the big event held in July 2015. Over 90 top-rank sportsmen from 14 countries including many world rank champions took part in this highest level event. All of them fought for rating points which they need to get qualified for XXXI Summer Olympic Games in Rio de Janeiro. This level tournament is the first to hold in Central Asia and we are proud to say that Trade House Nafta LLP employees jointly with Condensate Group of Companies took an active part in organizing and holding the event which by feedbacks of the chief referee, participants, and guests was done excellently. Thanks to Condensate Group of Companies, residents of Uralsk had an opportunity to watch the most big and spectacular sporting tournaments in Kazakhstan.
There is a sports goods booth in the sports hall building where one can buy necessary equipment for sport exercises. Yonex badminton equipment of Japanese make and racket stringing services are of big popularity.
Click here for the full photo album of Energy fitness center.
Country recreational services in "Mechta" camping
The Company offers recreation and leisure activities in Mechta campsite for local residents and guests from near- and far-abroad countries. The campsite is located on a picturesque land at Ural river-bank and Teploye Lake, 18 km away from Uralsk along the Uralsk-Daryinsk road.
In the woods around the lake and river one can meet such wild animals as fox, hare, roe deer, wild boar and beaver. Cranes, herons, gulls, cormorants and other rare birds make their nests around the lake. A great number of fish dwell here. They are carp, catfish, pike, crucian carp, perch, sargue, and rudd. This natural diversity undoubtedly points to the environmental cleanliness of the region.
At the lakeside of Teploye lake a floating landing stage is located. This is a double-deck "floating house" in retro style. The first deck of the house houses state cabins, bar, the second deck – restaurant. The retro style of the restaurant is carefully maintained. Decorated with lights, the floating house looks especially beautiful at night.
Our guests are also welcomed to the comfortable hotel complex with De Luxe rooms, standard rooms with all facilities included as well as Finnish sauna, nice restaurant with the various menu.
You can choose from multiple recreation services such as: sand beach with 9m water slide, children's swimming pool, hydro ski, catamarans and boats, small comfortable motor ship.
Fishing is very popular with the guests of the camping. As there is the Ural river and Teploye Lake near the campsite, its guests always have an opportunity to hire fishing tackles and try and catch fish. The campsite water basins are the habitat of crucian carp, pike, sabrefish, asp, rudd, and catfish. There is a pond facility at the campsite created in 2011 for breeding carp fish species. One can hire fishing tackles and enjoy fishing at the improved lakeside.
Young campsite guests may have fun while actively spending their time at the inflatable trampoline and other interesting areas.
The followers of active life style are offered to play beach volleyball and five-a-side game at the courts. The sports hall houses tennis-tables as well as outlined courts for badminton and classic volleyball.
Winter recreation in the campsite is as much interesting as in other seasons. Ski amateurs can use good skiing runs around the lake and other adjacent areas, children and adults have fun riding the ice slide and skating rink.  The campsite purchased a new high-speed snowmobile in 2017.  Winter fishing amateurs can go ice fishing on the lake.
The campsite also include restaurant, bar, and cafe where one may dance at the disco and sing karaoke songs in the evening.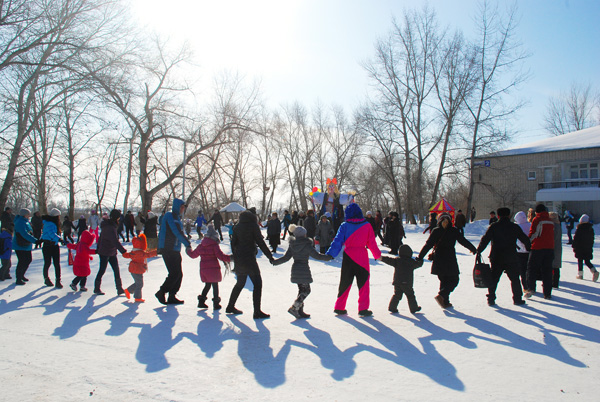 The initiators of recreation activities of Trading House Nafta LLP regularly hold various festive events for their guests. The most large-scale of them are "Farewell to Winter", "Neptune Day", "New Year Holidays." Among the citizens, children's New Year parties are very popular, and they are organized every year on the eve of New Year holidays.
The campsite is able not only of providing various recreational services and holding corporate events, but also for holding offsite events, conferences, workshops and round-tables. The campsite possesses a modern and spacious conference hall for 40 and 250 seats, as well as 5 comfortable banqueting rooms for 20, 30, 40, 120 and 250 seats.
Mechta campsite gives extra opportunities for developing local tourism service and attracting more holiday-makers from the Uralsk land, adjacent regions of Kazakhstan and Russia. The official season opening for holiday-makers in 2018 is to be on May 1.
The time spend in our campsite will be an unforgettable experience and You, Your family and those invited by You to have fun here will remember it for a long time. Once visited, You wish to come back again.
Click here for more Mechta camping photos.
Various construction services
Over the past years the Company gained vast experience in organizing construction and installation works from drafting design and estimation documentation up to turn-key phase of facilities. Many experienced workers such as construction engineers, estimators and procurement specialists, finishing and repair workers took a part in many projects relating to both reconstruction & conversion of already existing buildings and construction of new buildings.
Some administrative buildings located in downtown Uralsk were reconstructed and they attract attention of many leading companies for use as modern and comfortable offices.
The company has a proven experience in installing and equipping sporting facilities with all the necessary life-supporting systems, and such facilities are currently very popular with our community due to ever increasing concern about following healthy and pro-active life-style.
In 2010 a new sports hall was constructed for SC Condensate personnel in Aksay. In 2013 a superb multi-purpose sports hall was constructed in downtown Uralsk for residents to take an active part in competitive sports.
In 2012 another amenity was constructed which is a dormitory for SC Condensate personnel in Aksay where later on its basement was equipped for use as a modern training center for Oil&Gas Industry specialist developing.
2015 was the year when a new division of Capital Construction department was emerged for construction of gas filling stations as a part of SC Condensate facilities upgrading project. The following facilities were constructed and commissioned in 2016: gas filling station in Uralsk (located at Uralsk-Saratov and Derkul-Uralsk roadway crossing); gas filling station in Aksay; Technical Chemical Lab in Aksay. No. 1 Uralsk Gas filling station and No. 2 Aksay Gas filling station were rebranded in 2017.
Air-conditioning systems installation and maintenance services
Since 2009 Trading House Nafta LLP has begun to provide new services – installation and maintenance of air-conditioning systems.
Any room requires comfortable conditions for work, that is why it is necessary to duly elaborate air-conditioning and ventilation system and the new trend of company business is a range of measures aimed at creating comfortable temperature conditions inside the rooms. The company offers a full package of services on selling, free-of-charge delivering, installing, and servicing of air-conditioning systems. Moreover, the company is ready for renovating and upgrading outdated systems. The above services are licensed, company specialists passed corresponding training and have appropriate certificates.
The Company provide work packages for any premises such as:
offices, office buildings;
apartments, cottages and townhouses;
restaurants and cafes;
night clubs, banquet halls, bars and cafeterias;
workshops, warehouses, industrial premises.