SC Condensate HR and Social Policy
Corporate success is first of all a big and goal-oriented labor of people working in our company. Not only correct process management, but also morale and psychological environment, tuning of the team solving the important task of company production development, depend upon their professionalism and competence.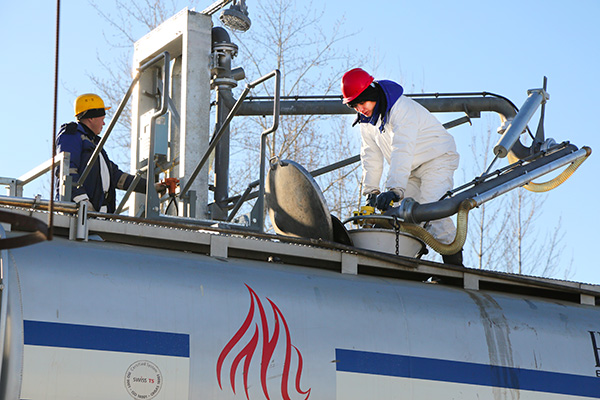 SC Condensate staff is a highly professional and responsible team of employees able of efficient contribution to implementing the Company strategy.
Corporate HR Policy is mainly based not upon administrative methods but economical stimuli and social guarantees focused upon approaching employee's interests to the corporate interests in achieving high productive efficiency and best economic outcomes.
One of the main lines in addressing HR Policy issues are as follows:
Engaging highly qualified experts;
Developing a system enabling each employee to apply their knowledge and experience to the full extent;
Training of new personnel and development of experienced professionals;
Determining labor remuneration system corresponding to the rate of personal commitment of each employee to the cause of the company;
Assessing and analyzing morale and psychological climate within the team;
Providing comfortable labor conditions;
Forming personnel reserve;
Social protection of employees;
Promoting healthy life-style;
Fostering sense of pride at personnel for the company.
The following issues in Corporate HR Policy are also of importance:
Comprehensive continuing labor and community traditions within the team;
Forming corporate culture at personnel aimed at maintaining positive corporate image;
Maintaining good morale and psychological climate within the team;
Respecting personality of employees as the highest value in the Company.
Employment, Social Programs and Corporate Culture
Each newcomer should sign an employment agreement where labor conditions and remuneration as well as a period of probation, benefits are set by the Company to an employee.
The following is provided to all employees at the expense of the Company from the very start of work:
monthly refund of meal expenses,
provision of transport – delivery of employees to and from work.
Employees are provided with annual leaves of 24 calendar days in duration minimum. According to Mini-refinery Employee Manning Table, additional payable annual leaves are provided for those entitled to it.
Social programs implemented in the Company are aimed at social protection of all the employees irrespective of their category and status as well as creation of favorable social and psychological climate inside the teams.
The following is provided:
Material in centives to employees for conscientious work
Holiday bonuses;
Monthly, quarterly and annual bonuses;
Other payments as set forth in Kazakhstan laws and Regulation on  remuneration and material incentives;
Honoring of persons celebrating a jubilee, payment of material remuneration;
Material remuneration for retiring employees.
For the purposes of morale and material incentivation to Company employees for high performance in professional and community activity as well as for big contribution into the development of the Company and Group of Companies, the directorate applies Regulation on incentivation of employees of member companies being part of "Condensate" Group of Companies" that provides for the following kinds of incentives:
Letter of Gratitude
Certificate of Merit
"Condensate" commemorative token worn on the breast.
Employees are granted a voucher for short-time recreation at the Mechta campsite at the expense of the Company, additional payable rest days, medical allowance when taking annual leaves, loans for various social needs.
In order to foster and keep corporate spirit and a sense of belonging existing within the Company, SC Condensate holds corporate events and holidays where many employees and members of their families often take part in.
And we also do not forget those who devoted the most part of their lives to working in our company, the veterans of labor (employees who received a "Condensate" commemorative token). Every year on the day of Company formation (Condensate Day) they are granted a bonus depending on the rank of this token.
Personnel work
The most important line in personnel work is continuous and comprehensive development of staff, improvement of their knowledge and professional skills.
The company has a system of advanced training, which includes: mandatory training according to requirements of the applicable laws, additional training in awareness  of approved corporate standards, regulations and specialty fundamentals as well as training, re-training, study, development, participation in exhibitions, conferences, worker experience exchanges.
To minimize the adaptation period for newcomers, create a team worthy of executing all occupational and community duties,  provides for a set of activities including:
Financing of employee study in vocational and higher educational institutions in specialties in demand by the Company;
Knowledge assessing and certifying

Oil refinery complex

employee proficiency;
Introducing a trainee school.
One of the main items of the staff activity plan is interviewing among dismissed employees and HR and Social Affairs manager and subdivision heads in order to clarify the reasons of dismissal and eliminate possible unfavorable circumstances.